Ratropolis DevDiary #33 – Launch of the Official version

Hello all! This is Cassel, the lead developer of Ratropolis.
I wish everyone a happy new year! and May this 2021 bring you much prosperous and joy.
We've already reached a second year since I started writing DevDiary #1.
Finally, my biggest achievement, the Official version of Ratropolis has been released.
Blessed by your support and love, we were able to make a successful launch.


< Ratropolis Launch Trailer >


In this journal, I wrote the progress before the official launch,
and experiences in PR and troubles of translating the game.
- Progress in Official Launch-
For the entire December, my team focused on fixing bugs, improving images, and
improving in-game UI features rather than creating content.
We didn't want appearance of any fatal bug which may occur when making major modification (adding new content) to the game.
We wanted to meet our official release deadline.
First, we made an improvement to the tutorial which all users will encounter.
Instead of modifying the tutorial, we made it more intuitive.
Highlighted and brightened the feature when it is explained
Moved the location of dialogue box near the object.
It's all new in tutorial; The tutorial Character, the description box, image and sound effect.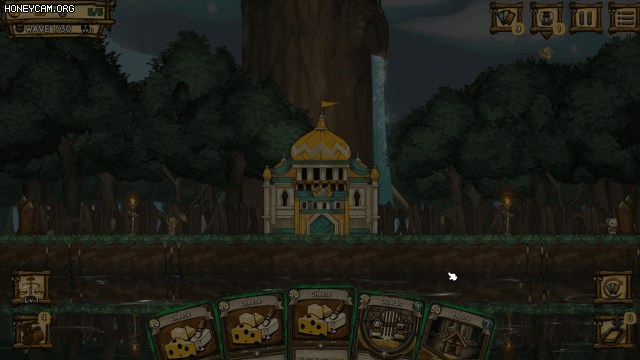 < We used to hear voices in tutorial which have also been removed. >
Previously, the tutorial was less user friendly, and could have mislead people to do things we didn't intend.
i.e.) There is no need to bring the cards to the city hall to use them.
The prior tutorial was not intuitive when using the defensive wall card.
After the change, I hope the situation has been resolved quite a bit.
Card images, backgrounds, UI, and achievement images were also replaced.
In the case of achievement images, they were improvised at the time of Early Access,
This time, re-work has been made.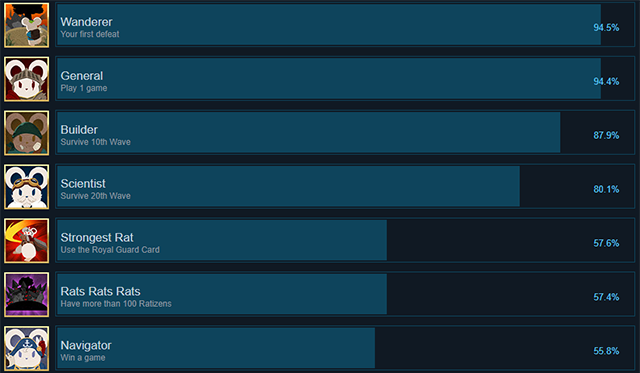 < The new cartoon style made me want to collect them all >
After completing all the image replacement work, I packed the images to reduce the size.
Found and Removed all unnecessary resources that are no longer in use, and optimized the game's volume.
We completed each one of the tasks that we had put off until just before release.
- Launch Promotion -
In the case of this official launch marketing, I paid more attention than it was during Early Access.
In addition to producing trailers, writing press releases, and promoting SNS
We decided to use promotional expenses to streamers.
We have had a help on promotional expenses from Korea Creative Content Agency(& Naver Cloud Platform),
and its globalization project called "GSP plus".
Which meant no expense was to be used in domestic PR.
The project we applied had a list of companies in which we could use the promotional expenses.
Among the pre-determined companies selected by government agency, my team
researched PR companies based on influential marketing, and contracted with one that's nice.
During a meeting with the director, I devised a PR strategy.
We decided to invest all the expenses on the launch date, and expose it to the top of Steam and streaming sites.
However, the launch date of Ratropolis is when overseas streamers go on vacation or have an event schedule.
There were difficulties with the hiring streamers, and the time to recruit was quite tight.
It wasn't easy to decide which streamers to hire.
We have faced a time limit to research game-specialized streamers who were to fit our game.
Fortunately, there are streamers who have streamed our game in the past
Such streamers were first on list for our recruitment.
Through very complicated works, we managed to contract over 30 streamers.
I had them run simultaneous streaming around 1 am Korean time.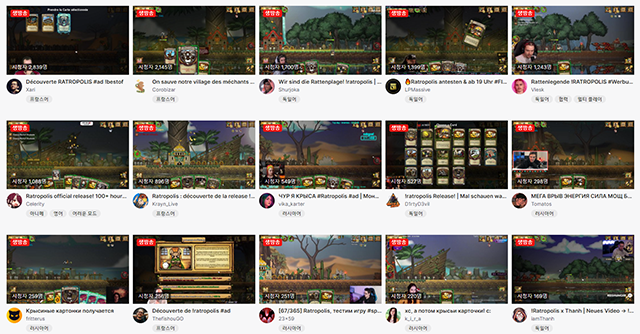 < Ratropolis Day made with a brilliant idea plus huge capital >
There was an average of 15,000 simultaneous viewers over 3 hours.
It was a busy dawn. I recall I left my sleep and went around monitoring every place.
However, one thing I was disappointed about was that only English/France/Germany/Russia streamers were invited.

It was regrettable that it would have been possible to invite streamers from Poland/Brazil/Spain.
Even after the launch, sales in Poland/Brazil/Spain show quite low, so I want to turn the time around.
If such PR opportunity comes again next time, I would like to recruit evenly from country to country.
- Final Language Translation -
Ratropolis has been servicing several languages during Early Access.
With so many quick fixes and frequent updates, my team couldn't keep all languages up to date with every update.
So, by the time of the official release, it was necessary to conduct a through review of translation
to meet the high quality, and be up to date status.
Some of the support fund for the PR project, "GSP plus", was used for translation expenses.
Contrary to expectations, It was a very big disappointment
The translation quality of some languages was not as good as expected. Also, the delivery date of the work was delayed several times.
There were frequent problems with missing translations or erasing game code or spacing.
Even if I don't know the language, I manually corrected each one of the parts where I could tell what was wrong with my eyes.
I was very upset because there were complaints from local users that it was a work of a google translator.
Fortunately, it is a little comforting that a translation company will do the retranslation.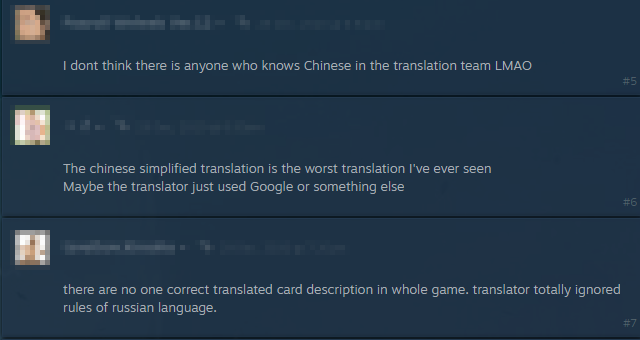 < I didn't expect it would turn out this serious. >
Translation through a company I experienced was non-professional and time consuming, contrary to the expense.
Because of the lack of understanding of the game or rules of HTML, the translation did not meet the quality I expected.
Some languages are well translated at firsthand, but there are other languages that
comes with poor quality even after changing companies several times.
I greatly felt the need for a system capable of user translation.
After replacing all the translation files,
the introduction and screenshots on the Steam store page were localized.
While playing for each language, we took screenshots of similar situations and replaced them.
It's not easy to create a similar situation,
I thought it would be okay to organize the game introduction screenshot as a blank screenshot without text.
It has finally been released Officially, but in my eyes, it is a game I would like to further improve.
In the next development diary, I will be back with works made to improve the game's completeness.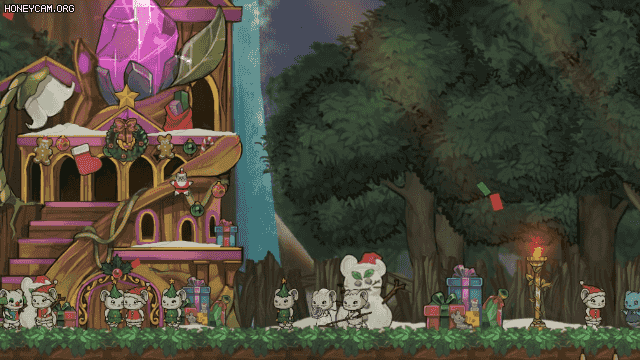 < Ho! Ho! Ho! We have added a Christmas decoration to the city hall! >
Homepage: https://www.CasselGames.com/
Steam: https://store.steampowered.com/app/1108370/Ratropolis/
Facebook: https://www.facebook.com/CasselGames/
Twitter: https://twitter.com/CasselGames