Ratropolis DevDiary #28 – Builder Leader Remake
Hello all! This is Cassel, the lead developer of Ratropolis.
In June, we focused on the rework of the Builder Leader and applied for participation in various indie game events.
In this journal, we will briefly cover updated contents and the game events .
- Builder Leader Remake -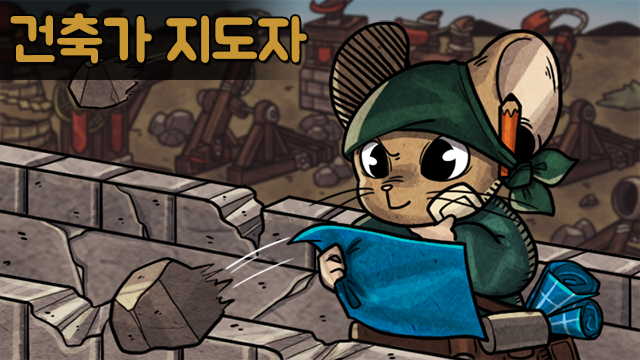 < Builder Leader defeats enemies by using various buildings >
The Builder Leader can easily obtain various building cards
Through its unique feature, extension, he can increase the abilities of buildings.
Because he focuses mainly on constructions and extensions, the direction of remake was simple and clear.
To make efficient use of the territory (land) where the building can be built.
Objectives
- Make various defensive building cards available.
- Make more buildings available to Extend, making it easier to defend against late-game enemies.
- Territories and buildings make steady supply of gold income.
- Make protective measure for defenses and buildings from enemies.
- Enhance the Defensive Wall, making the wall impenetrable.
- Make sure player gain advantage from strategically built constructions that offers high benefit.
With the above goals, we have re-designed over 60 cards,
Let me briefly introduce 3 things we added to cards.
- Cloaked Buildings -
Unlike other tower-defense games, Ratropolis has a Side-point of view.
Because the enemies are moving in one way, destroying all the buildings in front of their direction,
We worried that players would find limited strategies for deploying towers .
We noticed that most users built the defense tower in the forefront near the Defensive wall.
Which meant, in case of breach, the enemy would find open path to the player's defeat.
After thinking about how to solve this problem, a concealment mechanism emerged.
Cloaked construction goes unnoticed(not targeted) by enemies.
Enemies pass by cloaked buildings, and buildings can continue to damage/hinder enemies.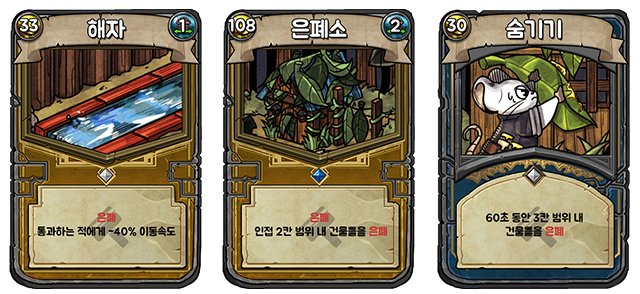 < Cards that have or offer Cloak effects >
Previously, defensive buildings had to be built behind the defensive wall(within the territory), limiting their diversity.
The attack range had to be long, and it was burdensome to build it on near the front-line.
However, with the addition of cloak effects, it made more sense to add short range defense buildings.
So, we added a building that knocks out nearby enemies and a building that attacks all nearby enemies.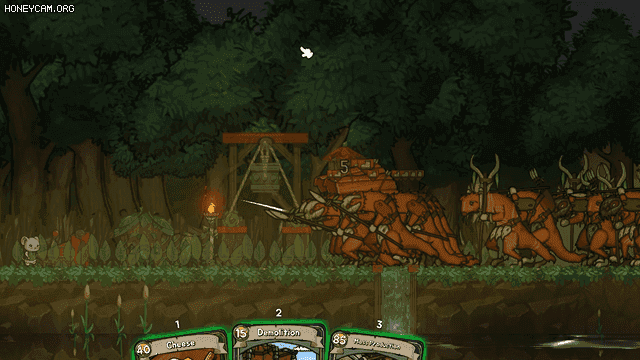 < Rat-holes are hard to find. Sneaky rats have invented a way to set up cloaked buildings. >
- War Machines -
The Builder leader also received a function similar to the General's unit's 'Growth.'
Let's say if the "Growth" made General leader's units stronger,
Builder leader invests resources to factory and gain Superb Military Card.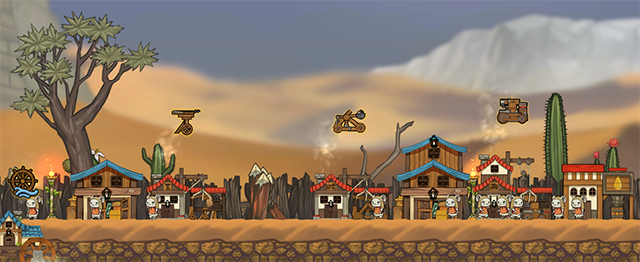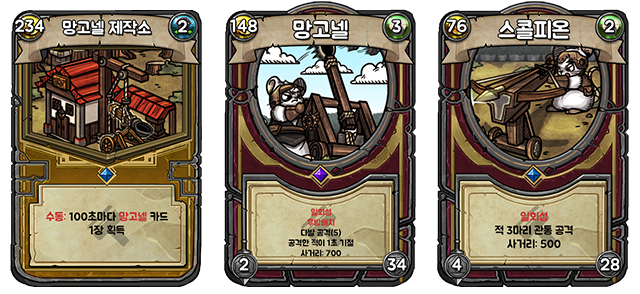 < Factory building card and the War Machines >
Factory buildings offer military cards that deploy powerful mechanical units (with a long cool-time).
The War machines are effective at killing enemies in group,
When used in combination with other defensive buildings, it is highly effective.
However, since the War Machine card has a Single-Use attribute that disappears once used,
Make as many factories as you can to spam these units.
If there is not enough territory to build multiple factories,
You can also mass-produce using cards that reduce the production time.
- Flame -
Flame is an effect that deals damage over 3 seconds to all units on the fire range.
It is effective against multiple small sized enemies because it deals range damage over a long period of time,
But, It's pointless when dealing with a boss or an elite enemy with ton of health
We concluded that many cards related to the flame were needed to try win the game using the flame.
In result, we created various cards; a unit, building, or skill to generate flame effects.
Also, enemies in the late-game can be fully dealt with cards that enhance the damage of the flame,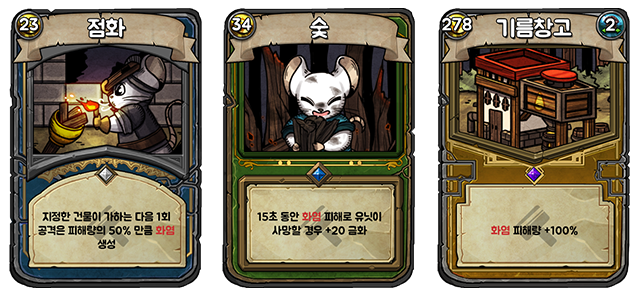 < And we gonna let it burn burn burn..Burn >
Flame was a concept originally used by the Scientist Leader.
However, achieving the victory with Builder was monotonous compared to others.
Since we were short of good ideas for this leader,
we decided to hand over the flame concept to the Builder leader.
Builder leader can amass enemies before the Defensive wall.
Flame seemed very suitable for use.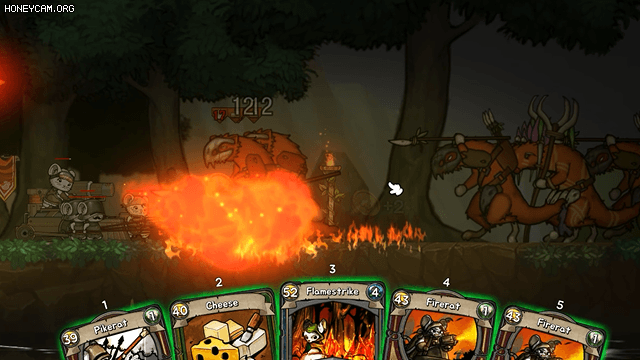 < Only big enemies can jump over fire, units like weasels will dare cross devilish flame. >
In addition to this, we have added convenient functions such as displaying the attack/effect range of buildings
and individual units movements.
I feel bad that the Builder leader couldn't find more cards that would shine him compared to the previous leaders's remake.
I think there is a room for a change, and we plan to continue adding new cards for Builder until the official release...
If you have an interesting idea, I would appreciate it if you share it.
- Online Game Show -
In 2020, it was my plan to participate in domestic/overseas offline game events to promote the game.
Every events were canceled due to COVID-19 and social distancing.
Thankfully not all the the opportunity to promote was lost.
Many indie-game events in Korea went online and proceeded.
I was very worried about my first online event,
With the ambition to turn the crisis into an opportunity, I applied for various game events.
So, I will briefly introduce the 4 events that I applied for in 2020.
- 방구석 인디 게임쇼 -
BANGGUSUK Indie game show is held by Neowiz to support the promotion of indie game developers
as many offline game shows were canceled because of Corona Virus.
More than 200 indie games in Korea participated.
Nevertheless of its size, As it is the first event held, it has little awareness.
I am concluding there is little publicity effect.
The intention is good and there are great games introduced.
I would appreciate it if you visit the site which take interest in various indie games.
The event end on July 7th.
- 이달의 우수게임 -
Game of the Month is held by Korea Creative Content Agency.
This award is given biannually on June and October.
The award winning game gets auto-registered as a candidate for
the 2020 Korea Game Grand Prize.
Categories for awards are these; 4 general games, 2 functional games, and 2 indie games
There are 19 indie games and only 2 are selected through user votes.
Competition in the indie game is fierce as it gets.
I wish the board grant award to 4 indie games instead of 2.
I am praying for good results.
- 인디크래프트 -
indiecraft is a game festival held by SeongNam city.
Top6 on the list means sponsorship plus prize money.
It was an event I really wanted to participate in.
Previously, the event was held at Pangyo Station, but this time it will be held online.
Details are to be announced. (On July 6th, I checked the site and there are schedules)
The show last 5 days between July 22 (Wed) ~ 26 (Sun), 2020.
40 games are competing for domestic game category along with 4 overseas, and 10 community.
I have a high expectation as I heard it will be conducted in a different way from other existing online exhibition.
I hope good results will follow.
- BIC -
Busan Indie Connect festival is Global Indie show held at Busan, and it's my personal favorite.
It is known for the highest recognition among domestic indie game events.
As well as tons of support it provides for domestic indie game developers
BIC board helped Ratropolis' promotion on domestic and overseas exhibitions in 2019.
It is said that this BIC will be conducted online like other events.
How it's held is TBA, and I heard they are still accepting registration.
As it's the biggest event that wraps up the year of 2020(October to be exact),
I hope that it will be thoroughly prepared and be successful.
COVID-19 worries us all. It has brought big change to our lives.
There has been many change in offline gaming event.
I am worried about how to promote Ratropolis and worried if many people will like us.
My biggest fear is to try something that I have not done before in my entire life.
Online events that provide simple video to watch and possibly demo-play doesn't look like
it's much different from just skimming through the list of games on Steam or the Google Play Store.
There won't be live feedback/interaction with users, sharing prizes and goods, or photo-shoot on the booth.
I am curious how the organizing board will take care of Social activities and Events for online participants.
Hope they do a wonderful job at it.
We ask for your participation and interest so that indie game events can produce good results.
Already, It is the turn of the Scientist leader, the fourth remake.
There were plans to remake 2 leaders a month, before we proceed with the schedule.
It turns out that it took more effort to remake even one per month.
I'll see you next month with the Scientist's new mechanism.
Your voices telling us how successful remakes are make us happy and fulfilled.
Thank you!
(Sorry Translation was late)
Homepage: https://www.CasselGames.com/
Steam Store: https://store.steampowered.com/app/1108370/Ratropolis/
Facebook: https://www.facebook.com/CasselGames/
Twitter: https://twitter.com/CasselGames