Ratropolis DevDiary #26 – Merchant Leader Remake
Hello all! This is Cassel, the lead developer again.
We barely updated the game during April because every resource was used for this Merchant Leader Remake.
We're able to finish the development at the end of April, and package them for update.
In this journal, I will briefly introduce you content about the Merchant leader.
- Merchant Leader Remake -
At Ratropolis, leaders' personalities and colors are not as highly unique as other card games.
All the cards appearing in the game can be used without restrictions regardless of which leader is played.
We could not handle creating a unique pool of cards based on each leaders at that time.
It was our best to design each leader's passive / active abilities slightly different,
considering the development environment in beginning stage.
Eventually, the game received painful feedback that the leaders are in-distinctive.
This surely is a very difficult task that could not be easily solved.
Many existing systems need to be modified / deleted,
It was clear that it would take a long time to improve cards and system for all six leaders
However, I wanted to complete the Ratropolis into a memorable and wonderful work,
Recalling that many people cheered and encouraged,
I decided to take another challenge.
In the future,
Common cards will be less, and leader-specific cards will appear in the game.
The mechanisms of the existing cards will be distributed to each leader.
We want to change it so that we can provide various game experiences for each leader.
There will be a beta mode in-game, and updated leaders will be selectable by choice.
Please tell us how satisfied you are on following changes.
- Major Leader Remake -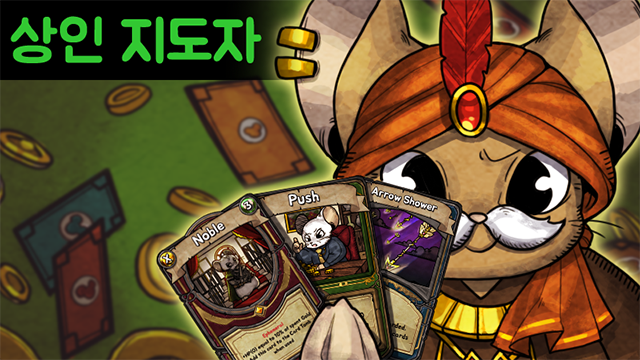 < Merchant leader, the first test subject of the leader reform! >
Merchant is the first leader a player will choose.
It uses the most basic resources: gold coins and taxes.
Through the merchant leader, I thought specifically about
what kind of experience to give the player.
- High gold coin income makes it possible to challenge various cards.
- Taxes are used to ensure steady supply of gold income and operation.
- Use the military units that disappears after a certain period of time to learn the appropriate timing of deployment
- Strong infantry line to withstand the attack of enemies and make it possible to deal with the crisis.
- The remaining gold coins are used to increase the efficiency of the card.
With the above goals, we have re-designed over 60 cards,
Let me briefly introduce some of the key mechanisms.
- Service Units -
'Service' is a trait for military units with above average stats but disappears in time.
Since these units have a service-time, the player have to check on maintenance of forces time to time.
Makes players use military cards, taking into account the time of the enemy's appearance.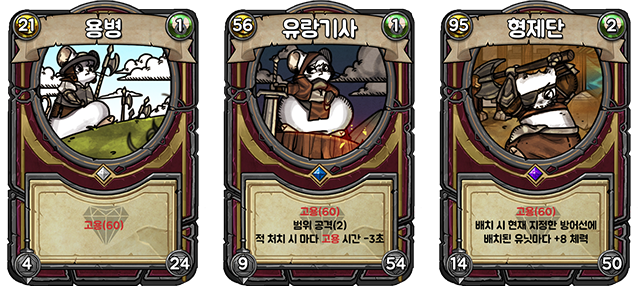 < Numbers in parentheses indicate duration of employment >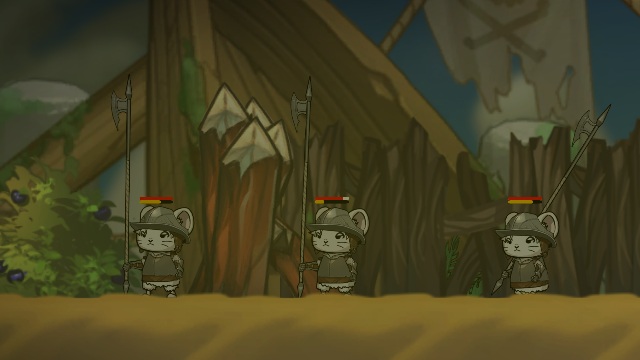 < In-game, the remaining service time for each unit is indicated by a yellow bar. >
With the addition of a number of these service cards, cards that are synergistic and effective are also needed.
So, we added support cards such as increasing the service time
or the ability to activate the effect whenever the service ends.
This has made it possible to extend the service time to almost infinite,
or to achieve high benefits by making quick hiring cycle to activate service-end effects.
Service units have a good combat ability, so as long as you properly use support cards,
You will be able to effectively defend against invading enemies.
- X Cost -
'X Cost' is a characteristic that consumes full amount of gold as a cost when using the card.
Former merchant leaders was rich in the ability to inflate gold coins by using economic cards.
In many cases, players choose to pile up gold coins to the maximum.
When there are enough gold coins, players are less likely to manage gold coins, the core resource of the game.
The more this persists, the more boring the game becomes, and the fun is halved.
So, by adding X cost cards that can consume accumulated gold coins at once,
Players are encouraged to manage their resources again.
The X cost card consists of a card whose effect increases with the cost it consumes
and a card with a fixed effect regardless of the cost it consumes.
So, if you use it strategically, you can get high profits at a low cost.
In addition, by giving some X Coast cards a Ephemeral(temporary) effect that is removed if they are not used,
if a player does not use a card, he or she loses a valuable card and benefit would be lost.
I designed it so that players would worry about whether to use the card or not.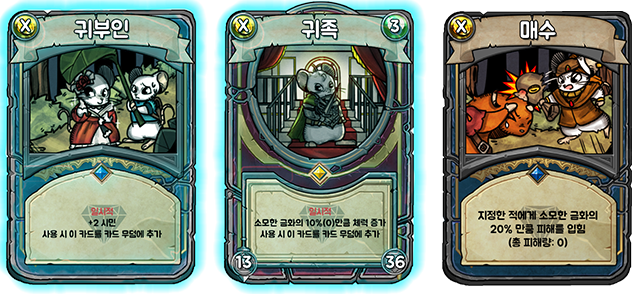 < Sometimes a few gold coins in your possession may be beneficial to you over a heavy purse. >
After the alpha test, using the X cost card turned out stress for players
because the treasury will be 0 won, and from there rebuilding was difficult.
it was not preferred.
The need for support cards to reduce the risk has emerged.
So, we included a card that saves treasury for a while, or a card
that provide emergency funds in the absence of funds.
If used properly, it quickly replenishes the spent gold coins,
X cost cards will be easier to operate.
- Unplayable /Discard -
'Unplayable' card is literally self explanatory.
Originally, it was an effect that was only used for a disturbing card,
but this time, the effect is activated when the card is discarded instead of being used.
Merchant Leader has the Leader ability to get 10% of the current gold coins for each discarded card.
We seek to enhance the Merchant Leader's character by including series of unique combo cards
that are highly effective and triggers Merchant Leader's ability.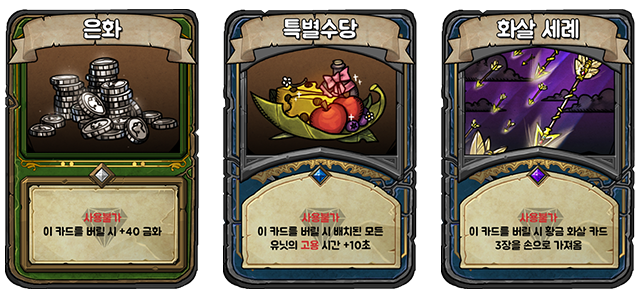 < Redraw makes them discarded as well >
In the midst of card development, I kept thinking of one thing I could not make happen.
There was no function to select and discard cards in the game.
It was either discard all or pray random discard won't take one of a key card.
I thought it was inappropriate to pause the game frequently while selecting cards to discard in the middle of the game.
However, the structure in which cards cannot be selectively discarded made it difficult
to use 'Unplayable' cards and halved the fun of linking cards.
So I was researching about how to discard the card without displaying the card selection screen.
There were many situations to consider because the cards were drawn and discarded in real time.
Out of nowhere, I had this thought that would resolve this crisis.
Apply a trigger that would discard the next playing card.
Suddenly, the next step of the card being discarded would be resolved if it was changed in a way that triggers it.
After the closed test, it went well with the game without any problems.
From now on, you will encounter support card that would help you discard in a selective way.
Players will be able to use more unplayable cards strategically and without the 'pause'.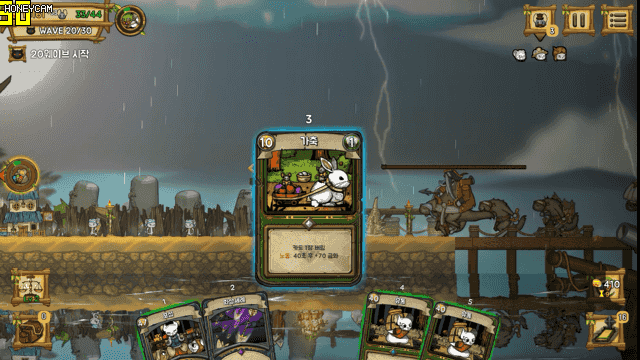 < Using the Livestock card, he discarded unplayable card >
In addition, we have proceeded with the image change for cards, a new Skip system, and visual update.
This time is by far, as we added a number of cards and systems, the major change has been made.
Cards developed for a week disappear in a day, or
a New ability card was added a day before the update.
I was in a hurry to produce a high quality result in short time.
Now it's the General leader's turn, and I am so anxious how the next remake will turn out.
If you have a good idea, feel free to share it via comments or email.
Next topic would be a remake over General leader.
Thanks for reading! We ask for your continued love and expectations.
Homepage: https://www.CasselGames.com/
Store(STEAM): https://store.steampowered.com/app/1108370/Ratropolis/
Facebook: https://www.facebook.com/CasselGames/
Twitter: https://twitter.com/CasselGames