Ratropolis DevDiary #16 – Video Trailer & Demo game update
Wassup! It is Cassel the lead developer of Ratropolis.
I feel proud writing my 16th development diary. Which I started earlier this year.
This time, we've added additional desert units and updated the trailer and demo version.
Allow me to introduce the developed contents!
- Update on Final Boss –
Designed the final boss after the Salamander invasion at the Desert Stage.
The final boss is a guardian deity worshiped by the salamanders.
Out of many candidates associated with fire,
The volcano spider has defeated Scorpion and volcano tortoise.
It's attacks and special abilities use fire and cobweb.
I tried to avoid fantasy elements such as imaginary monsters and magic.
Eventually, we hit the limits of ideas and gradually inserted fantasy element in the game.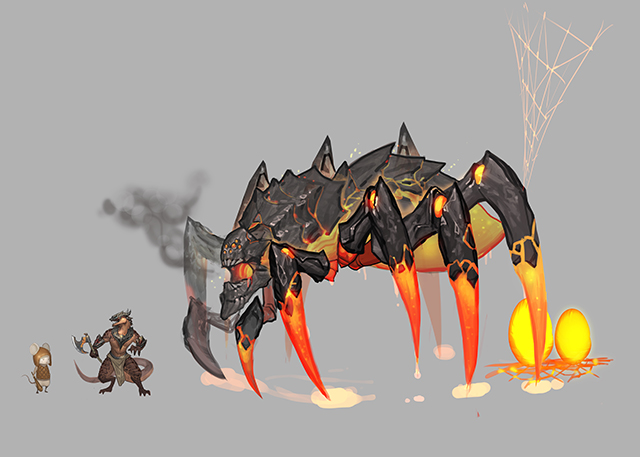 < Volcano Spider Concept Art >
Many modifications have been made to creating the volcanic spider based on concept Art.
I had to figure out whether to design a frightening image to give players fear and crisis.
or to design a cute image and unify the whole game with a cute feeling.
I wanted to develop Ratropolis as a strategy game in cute graphics.
After a long consideration, we created a cute boss...
I introduce you the volcano spider!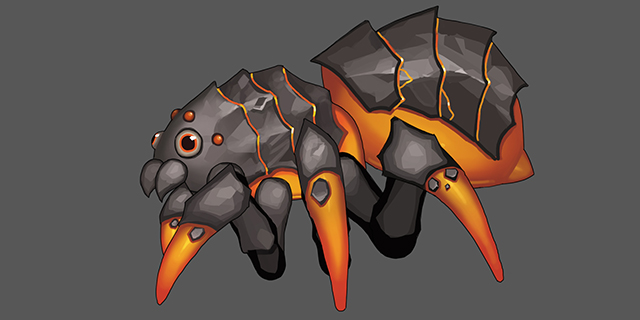 < We will add magical effects and animation to make it look like a final boss. >
It was great to be able to look back at the whole design concept of the game.
In the future, we plan to revise the existing units little by little to create a uniform cuteness.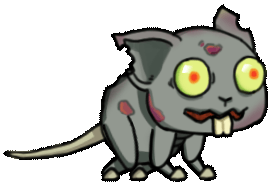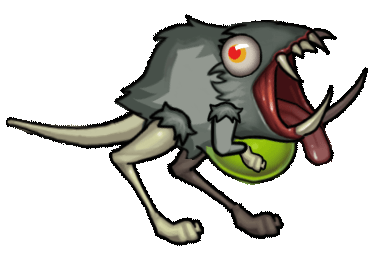 < Cuties(?)... >
- New Video Trailer –
A new trailer was produced.
The previous trailer video was produced in Korean and
it was not suitable for appealing to global users.
So I decided to make an English version trailer showing the latest version of the game.

< New Trailer >
I still see a lot of shortcomings in the video, and the more I see it, the more I want to improve the trailer.
However, it is not easy to fix because the game needs to be developed before the video.
Perhaps that's the reason why promo videos are outsourced... ㅎ
I have read and tried to follow good tip for the trailer producing, but I had met my own problems.
These are the trailer tips I found. It would make a good reference if you will produce one in the future.
1. Fill with game play footage
2. Do not include the company's brand or logo
3. Induce behavioral responses to end the video
4. Turn on sound effects and turn off background music when recording a game play
5. Outsource OST and trailer music
6. Keep it short
7. Show various positive experiences
8. Avoid inserting text
9. Post information they want to know at the end
10. Produce video in 4K
Reference: https://www.reddit.com/r/gamedev/comments/a49qq6/10_tips_for_making_a_good_trailer_top_mistakes_to/
With the produced trailer, we will announce the game to the overseas market little by little,
Personally I only know a few channels, such as Itch.io, reddit, Indie Game Promo.
To me itch.io seems to be the best site for promotion.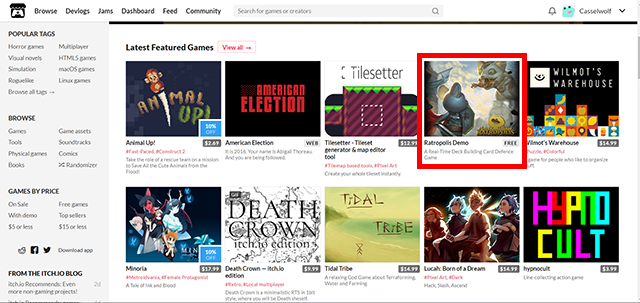 < Ratropolis is the Latest Featured Games on itch.io !! >
Ratropolis demo seem to be promoted enough. Not as popular as I'd expected.
I feel bad for not knowing about how to globally promote my game.
If you happen to know a good source to promote Ratropolis, I am please to hear it~!
- Demo Update –
Just a month ago, we yet planned to update demo version. Not until the early access version is complete.
However, a lot of users sent their feedback in the demo version produced in May.
As I sorted out the feedback I received, I was very sorry that most of the changes were made or improved.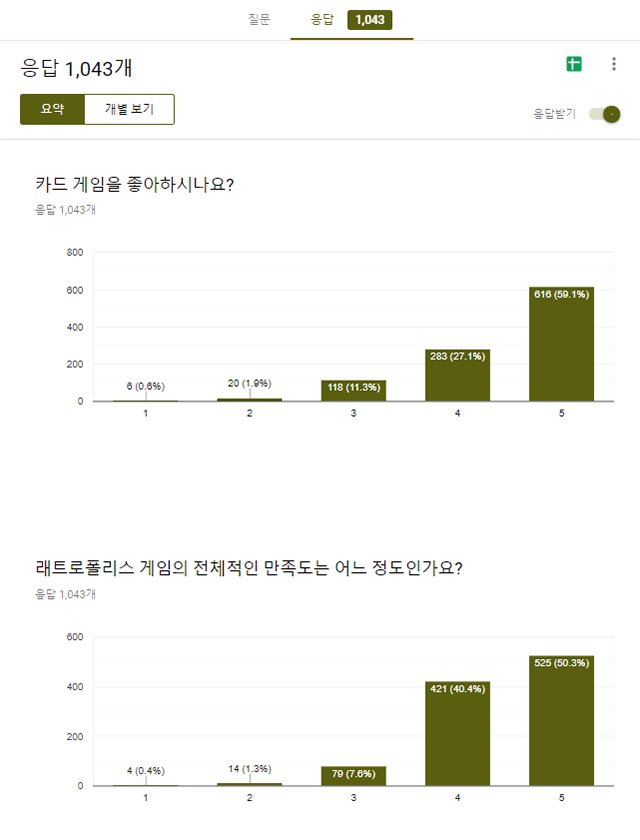 < The demo version has more than 1000 feedbacks! >
So to reduce repeated feedback, this time, we updated the demo version to a refined version,
For a refined version, we expect new feedback to the game!
Also this means that we are ready to showcase at the BIC event
and we communicate with players who sent us their feedback.
The demo version has grown in size, making it impossible to upload directly to the homepage. (It has a 100 MiB limit.)
So I replaced it with the itch.io link, which is hyperlinked as [Download] here in the below box.
- BIC Showcase–
Find Ratropolis at 13th Booth on September 7th and 8th.
I've been waiting for BIC event so much, and I'm already excited and nervous.
Moreover, don't miss the event stage at 4 P.M. on September 7th.
Hearthstone pro gamer and popular streamer DDaHyoNi is demonstrating Ratropolis!
We are looking forward to seeing if he can clear Ratropolis.
All is good, but one worry is that space constraints only allow two devices for demonstration.
We had 4 devices on PlayX4, and nevertheless, a lot of people were waiting in line to play demo version.
I am concerned that not all will get enough play time. Compared to PlayX4, seats and tables are positioned in less space.
So, I will prepare a lot of goods to those who have waited in line to play the game in return.
Thanks for reading the 16th Dev Diary.
Chuseok(Korean Thanksgiving) and BIC event is coming up. I am expecting a slow pace in development.
On the 17th journal, I' ll review my experience about BIC.
Until next posting!
Homepage: https://www.CasselGames.com/
Download Demo Version: https://casselwolf.itch.io/ratropolis-demo
Steam(Wishlist): https://store.steampowered.com/app/1108370/Ratropolis/
Facebook: https://www.facebook.com/CasselGames/
Twitter: https://twitter.com/CasselGames